Healthy, Safe Play - The NavyBaby Way.
WITH THE NATURE OF HEURISTIC, LOOSE PART ITEMS IT IS OUR TOP PRIORITY TO OFFER AND SUPERVISE THESE IN AN APPROPRIATE, SAFE WAY FOR EACH AND EVERY CHILD.
We don't toy around when it comes to safety.
Our procedures & quality control measures go above and beyond our requirements.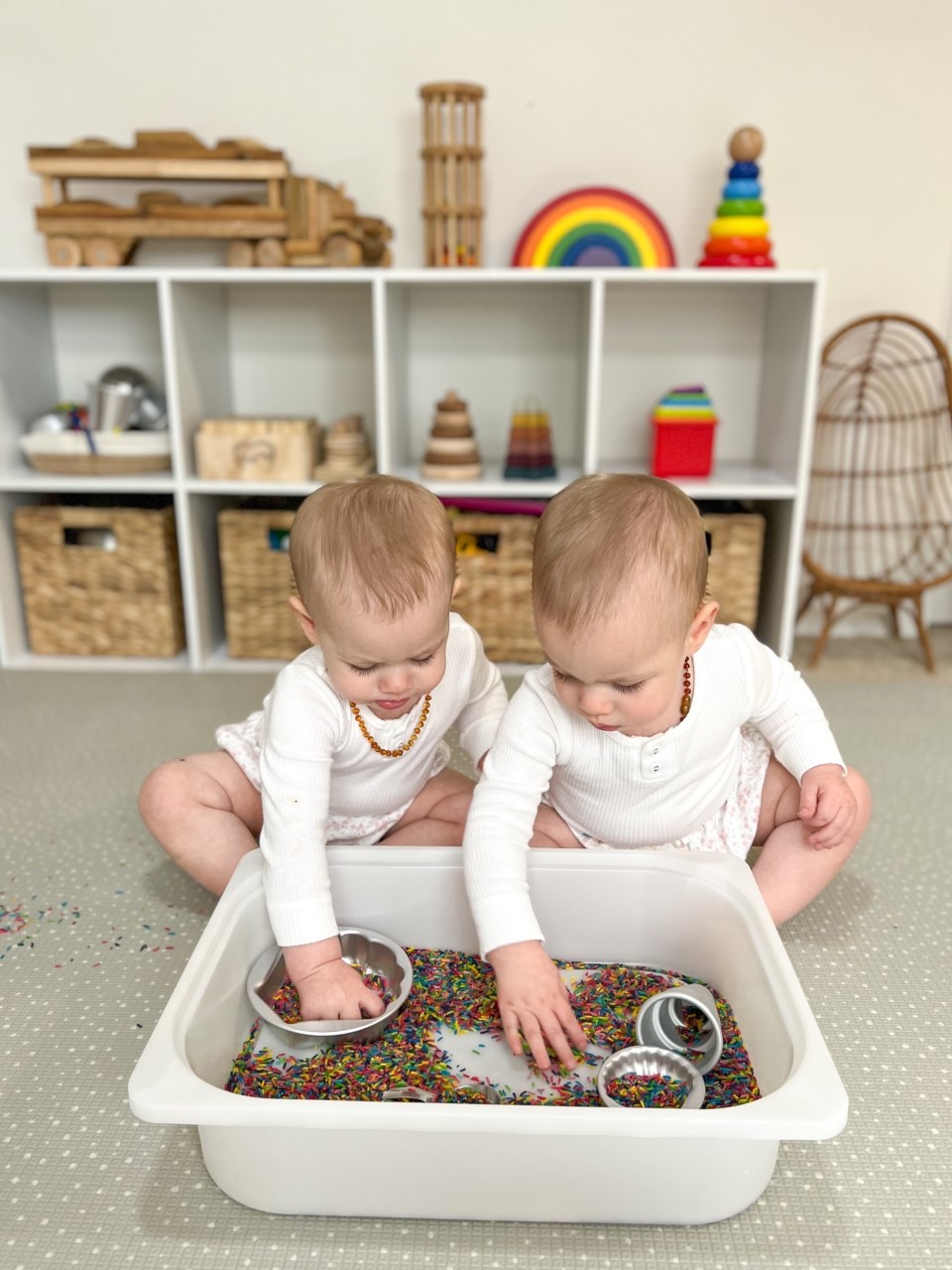 We've ticked our boxes.
Items of concern at NavyBaby Ltd have been tested by an outsourced accredited Laboratory inNew Zealand to meet the Standard set as stated in AS/NZS 8124.1:2016 Part 1: Safety aspects related to mechanical and physical properties.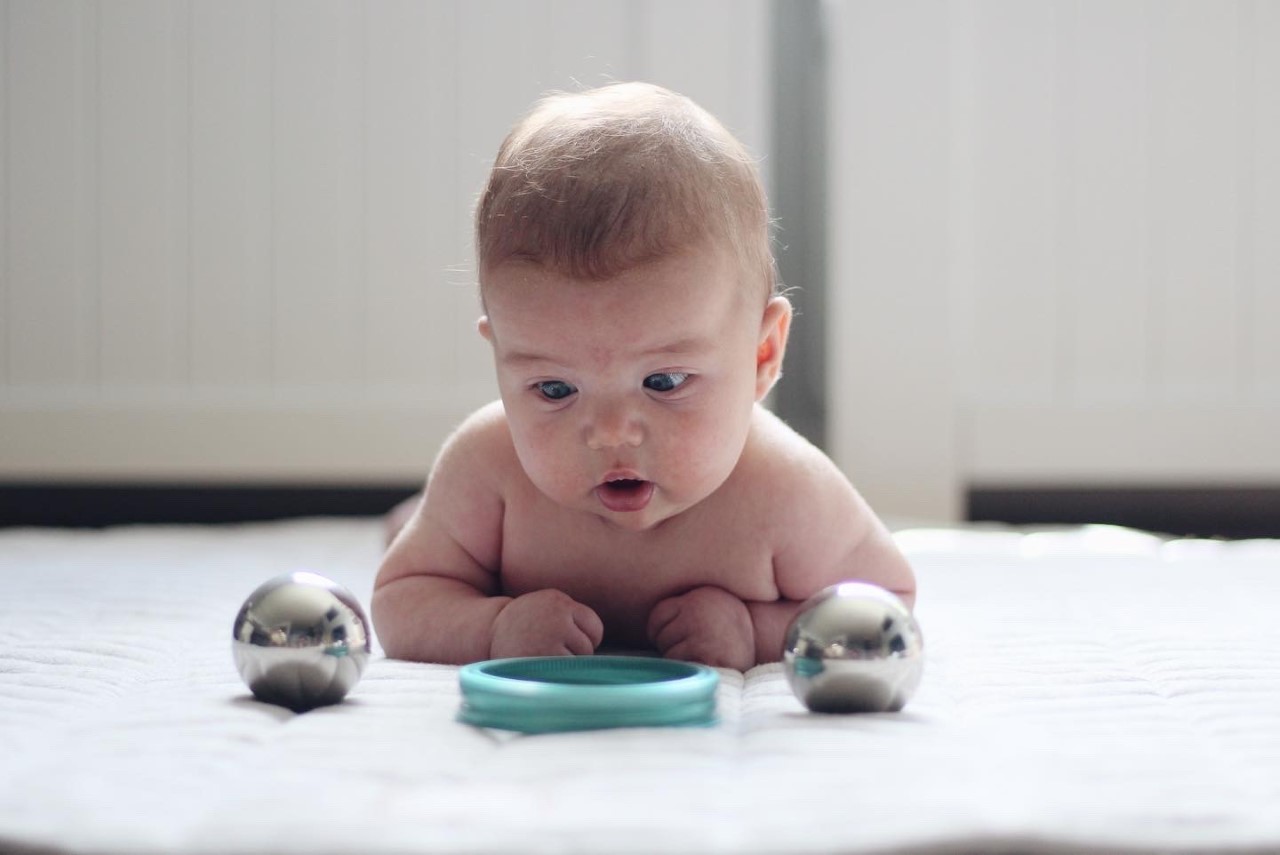 Parental Responsibility.
Compliance withthe requirements will not, nor is it intended to, eliminate parental responsibility in the appropriate selection of toys. In addition, this part of ISO 8124 will not eliminate the need for parental supervision in situations where children of various ages may have access to the same toy(s).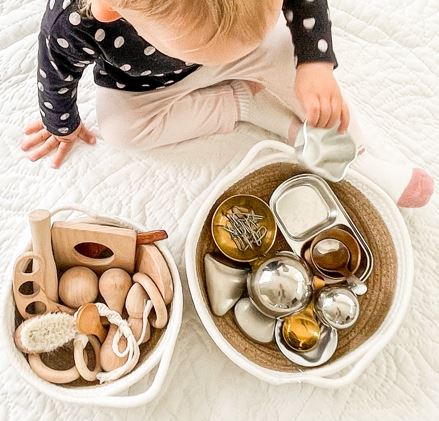 Knowledge is Power.
We want you to find a balance of supervising for safety and also allowing children to freely explore and manipulate these items at their will. A big part of our philosophy is the childs inner creativity and natural willingness to investigate different items.
FAQ's
Take a look at the most frequently asked questions all in one easy place!
Are the items safe?
Heuristic, loose part play items are real world objects and therefore we advise all play to be supervised by an adult at all times.
Additional to the safety testing requirements (above), our items have been checked for quality assurance when packed. Please ensure all objects are checked again prior to use (in the chance of shipping damage) and are continually monitored for general wear and tear reasons. If you feel any items are currently not suitable for your child/ren then please remove them and reintroduce at a time more appropriate.


What age is best for heuristic play?
Our Heuristic Sets and Loose Parts are suitable for infants who are grasping, right up to 36 months of age and beyond. Many clients purchase products before 4 months as the items can be used as visual play when baby is having floor time (after all looking is learning).
How do I know what to give my baby first?
Each Set has a great description to guide your choice. The Baby's First Set has been designed for the newly grasping infant. If you have purchased another Set, we suggest you offer the wooden teething peg and organza scarf as baby's firsts. Continue to introduce more items and increase the collection accessible to your child. Its important you feel comfortable with what your child is playing with, if you feel any items are currently not suitable for your child/ren then please remove them and reintroduce at a time more appropriate.
What should I buy my older toddler?
We recommend firstly having a foundation of open ended items as a base for your child's play. We then suggest looking at 'multiples' (eg 5 wooden buttons instead of 1). This provides more complex opportunities for a toddler/pre-schooler to create, transform and utilise as props in play. Our Wooden Blocks are also a very popular addition to multiple loose parts for older children.
What items will I get in my Set?
Each Set description lists the items included so each customer can ensure they know what they are getting. Please note that some items are differing in colour to those that are photographed. You will also receive a NavyBaby safety card and information pamphlet.
Do you ship internationally?
Australia yes! Working on the rest.
I'm purchasing for a gift, do you add personalised messages?
We sure do. Make sure to leave your desired message in the comment section as you head through to the checkout. If the gift is heading straight to the recipient we will ensure there is no invoice/statement included.
I've purchased a NavyBaby Custom Basket & need help with how to reshape it.
Of course! Click the link here to our demonstration. Any other help required please message in.
How do I order Loose Parts?
Loose Parts can be added to your cart via the shop. Use the drop down boxes to select the item and the quantity you require. Choosing 1 means you will receive 1 item. The items are photographed can be displayed in groups from all angles to give effect.
Do you offer gift wrapping?
We don't. Our customers can choose from one of our Cotton Drawstring Bags or Organza bag to deliver items in. We also have a range of baskets that compliment the display of toys perfectly.
How long does delivery take?
We always aim for a 24 hour turn around to have your item on the courier. We ship with NZPost who provide an amazing service with a fast delivery timeframe also.
Can I pick up an order?
Yes! We are located in Invercargill. If you wish to pick up your order, please enter the code: IWILLPICKUP at checkout and get in touch to arrange a day and time for collection.
Do you do refunds?
We do not accept returns or exchanges for change of mind circumstances due to the personal use of play items. We do however want you to be happy with your purchase. Please notify us within 24 hours from receiving your order if there is any damage, issue or concern with your product.
My child loves to put everything in their mouth, should I still purchase?
Absolutely! Mouthing is a developmentally appropriate part of childhood and we advocate for the learning behind this. Experiencing a variety of textures is important learning for your little one. Our sense of touch supports us to create understandings and is the central interface between our bodies and the outside world. When we feel something, we gather multiple informative cues about objects around us. Is it soft or hard? Smooth or rough? Flat or grooved? We create informed judgements over time and collect knowledge.
What does heuristic mean?
'Heuristic' - Enabling a person to discover or learn something for themselves. 'Loose parts' - Objects and materials that children can move, manipulate, control, and change within their play. With endless possibilities they provide a higher level of creativity and choice and develop children's imagination.
My baby is tired of the same basket of items.
We don't blame them. Setting out play items in differing ways is an important role we play in engaging our children and sparking their imagination. We love provocations so much that we created a PlayClub fill of ways to use your items for all ages. Check it out here.. The NavyBaby PlayClub.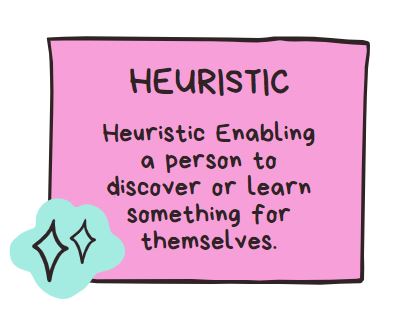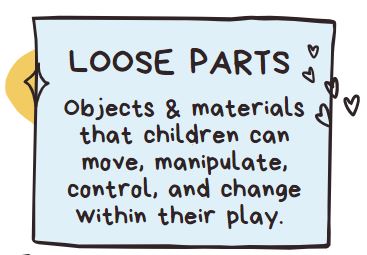 Our story
The past decades have seen many shifts in what our society see as play and in turn the vast amount of toys that are accessible to parents to purchase. Sometimes as parents we feel overwhelmed, people telling us this, others saying that. There is guilt and expectations and fads and pressure, all that make us second guess ourselves and at the end of the day we just want to give our babies the best start to life and see them happy and thriving. We started here. We thought, lets strip it back and go back to basics, what do children truly need? If we took away the plastic, the over stimulation, the dependence on toy entertainment, what is at the heart of it all? What is play and what types of play provide greater outcomes for our children?


We developed a strong passion for not only how young children play but what items foster opportunities and reflect the potential of mind. We began to see the significant connection between open ended items and enabling a baby to discover or learn something for themselves. In particular we wanted to focus on real world items to ensure children were playing with lots of different textures and materials. A full sensory experience where children were exposed to a variety of weights, shapes, sizes, feelings, smells, temperatures (instead of the same plastic feeling).


From here the NavyBaby vision was born.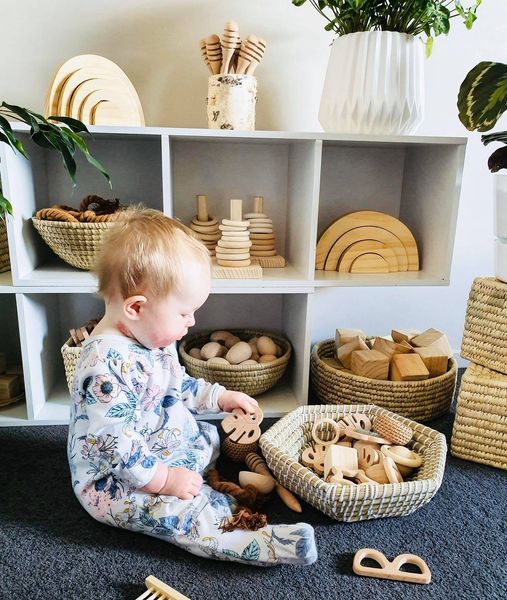 What is Heuristic Play?
The term 'Heuristic Play' was a term coined by child Psychologist Elinor Goldschmeid in the 1980's which describes an activity children engage in to explore the properties of objects from the real world. Having heuristic, loose part play items is literally a basket of treasures and a basket of potential – there are no specific directions, no boundaries or limits on the outcomes of the play. They don't have a purpose and that is the catch! Your child can create, construct, manipulate, explore, investigate, express, imagine, analyse and while refining these learning dispositions are actually constructing, deconstructing and reconstructing working theories about how the items in their environment work. They are thinking. They are experimenting and problem solving, they are developing life long learning skills.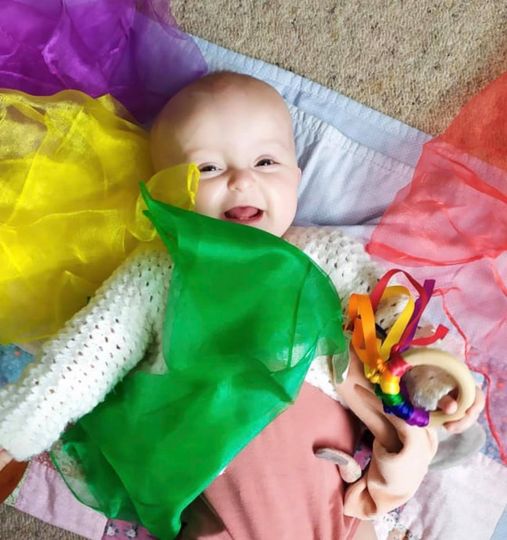 How to get started...
For infants who aren't yet grasping or holding items we recommend placing the items close by for investigation or hanging them. Looking is learning!
For young baby's handling items, invite your child to play by setting the items in differing ways on different days. For example a low sided, uncluttered basket or an array of items laid out.
For older children who are moving and standing we recommend to continue providing provocations and growing your collection to expand on their play space. Click here for some ideas!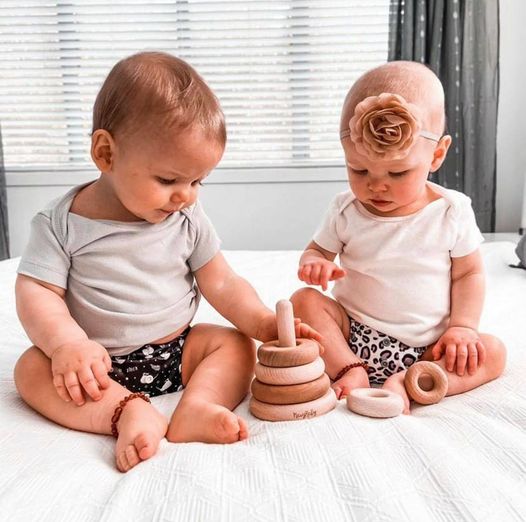 Why Would I? And when?
Loose part, heuristic play encourages investigation and curiosity! Together, these materials and philosophies are the key to it all. They are open. Open to interpretation from your capable, inquisitive baby! Your baby can't fail, your baby can't become frustrated, your baby doesn't need you to show them how to do it, or fix it. There is no right or wrong way to interact with them and that is the beauty. Let your child be the actor, director and script writer in their own play.
We advise to offer these items to your baby and respectfully observe their play. This can be as young as 8 weeks old by placing an item close by for observation. Provide your baby with lots of time to explore each day so there is possibilities for growing knowledge and revisiting their ideas. No matter the age of the child, the items can slot into your child's current understandings and stage of development. They are free of restrictions and as the heuristic play develops so does the opportunities for creativity, imagination, confidence and positive learning associations that affirm your babies' capabilities.
ALTERNATIVE CLEANING SUGGESTIONS
Handy tips & tricks for the ultimate protection.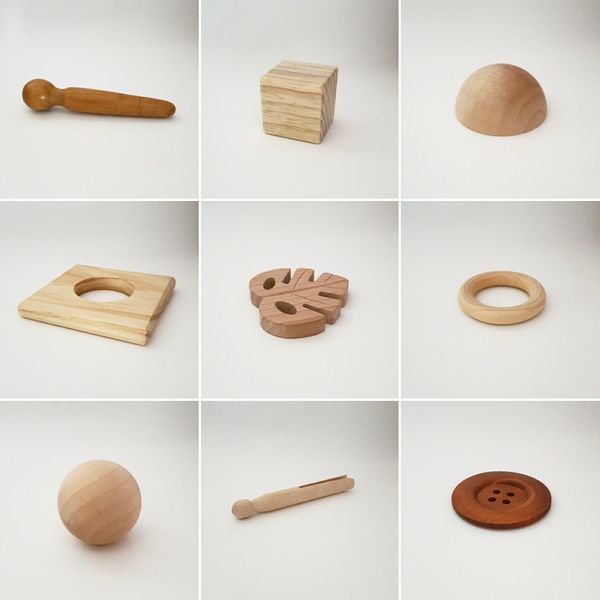 Wooden Objects
A vinegar solution has mild disinfectant properties safe for children. This natural solution is mild and convenient while keeping your wooden objects germ free. Use a damp cloth, soft brush or a sponge to wipe clean. It is best not to submerge wood in water.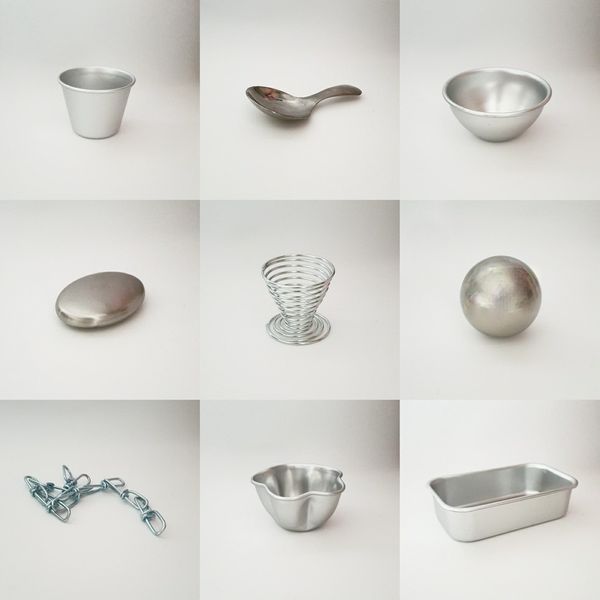 Metal Objects
A vinegar solution has mild disinfectant properties safe for children. This natural solution is mild and convenient while keeping your objects germ free. Use a damp cloth, soft brush or a sponge to wipe clean. Rinse well and pat dry. We do not recommend any dishwasher use.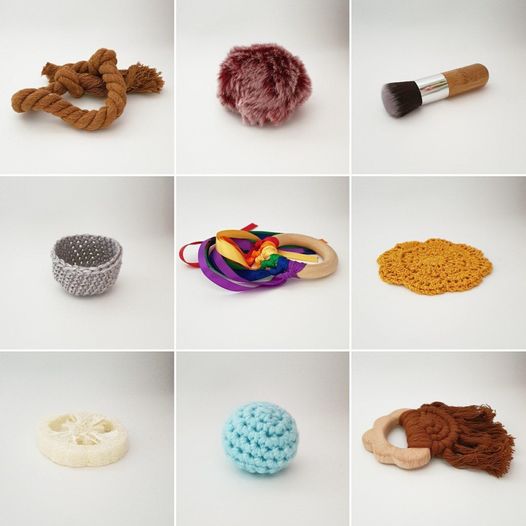 Material Objects
Hand wash using appropriate cleaning additives. We do not recommend using a washing machine. Dry using sunlight for extra UV sterilization!
The Buyers Guide
OUR MOST FREQUENTLY ASKED QUESTIONS WHEN MAKING YOUR PURCHASE..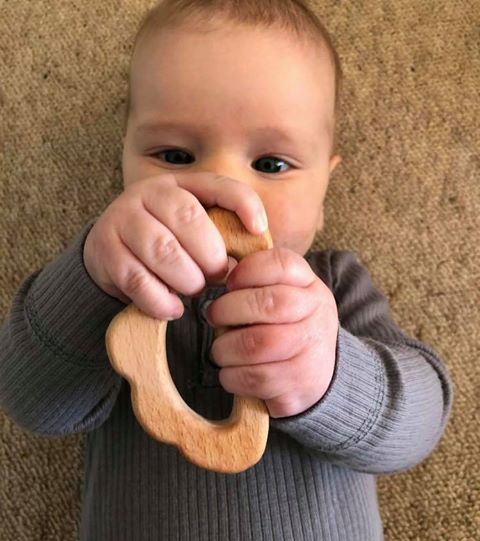 What Set should I buy my 8 week old?
We designed the 'Baby's first' Set for newborns. The perfect first 10 items for investigation.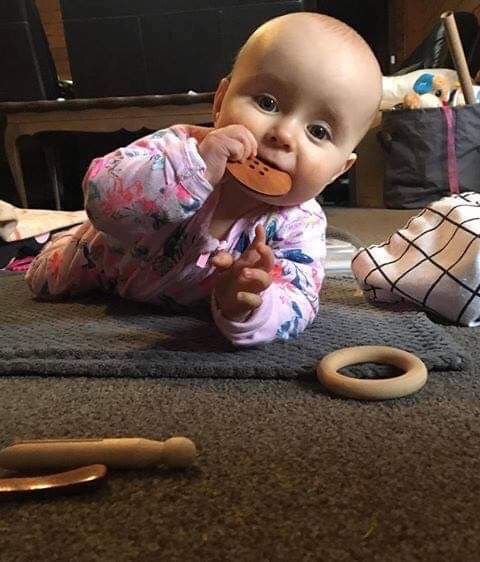 Are all Sets suitable for any age?
Yes. You can always choose items within a set to introduce to your child first. Then as time passes offer more or add to your collection.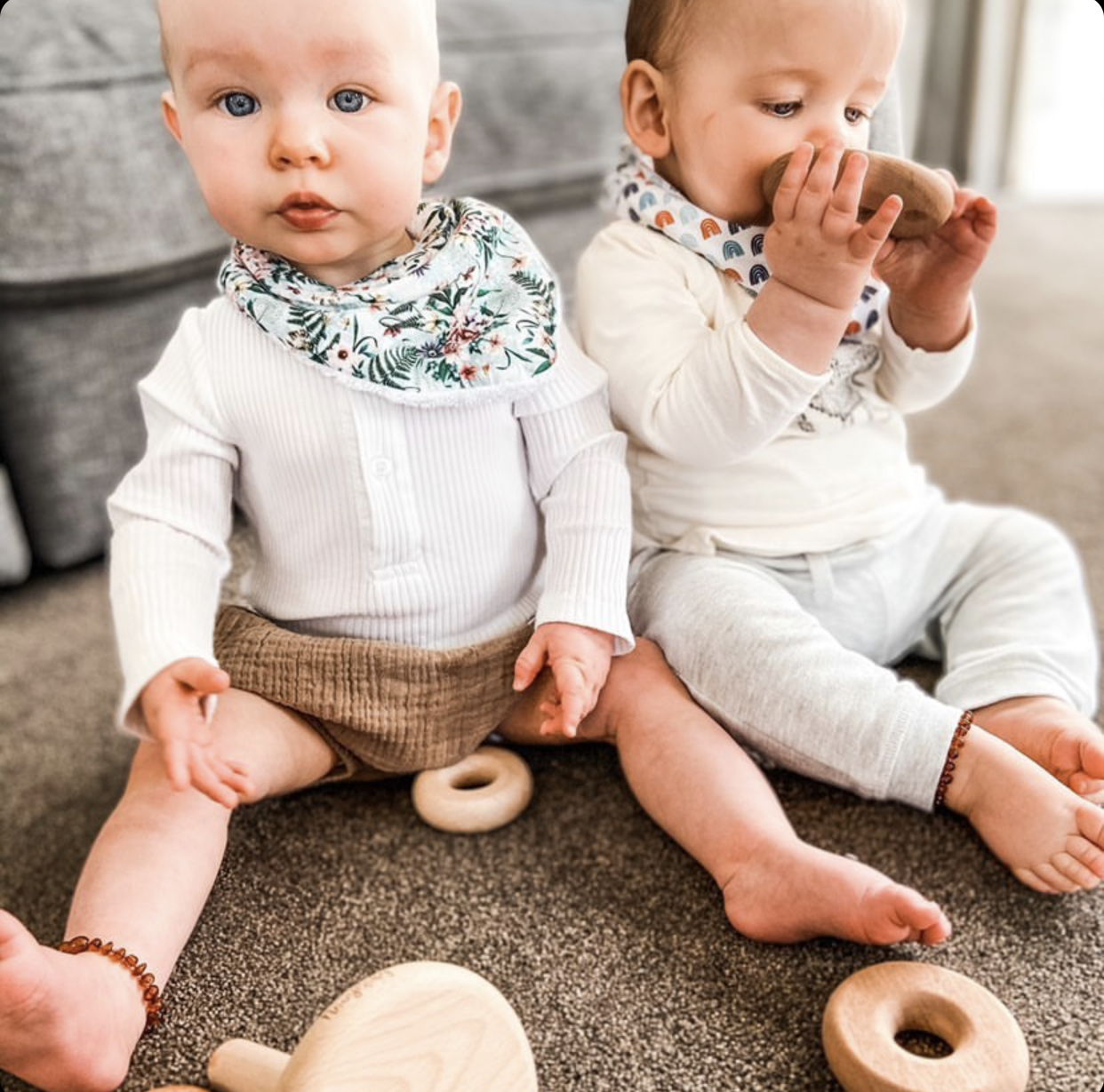 I'm purchasing for a group. What would be best?
It's best we help you specifically. Email or message us and we'll be sure to help for your personal needs.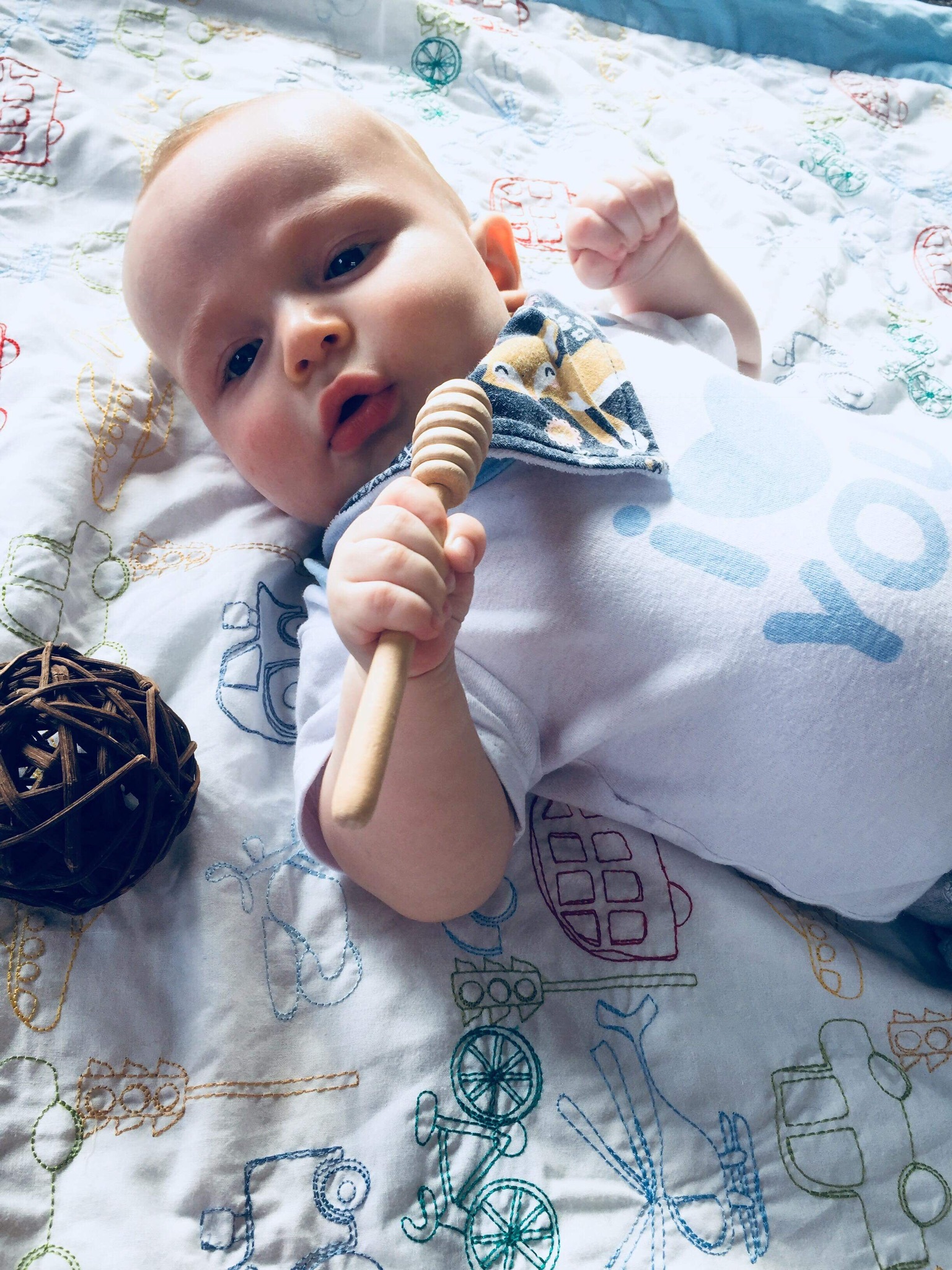 Have a baby under 5 months old?
If your budget allows, we recommend the Base Set. The Baby's First Set or the Luxe Set. Boasting texture and variety, this assortment is the perfect starting point.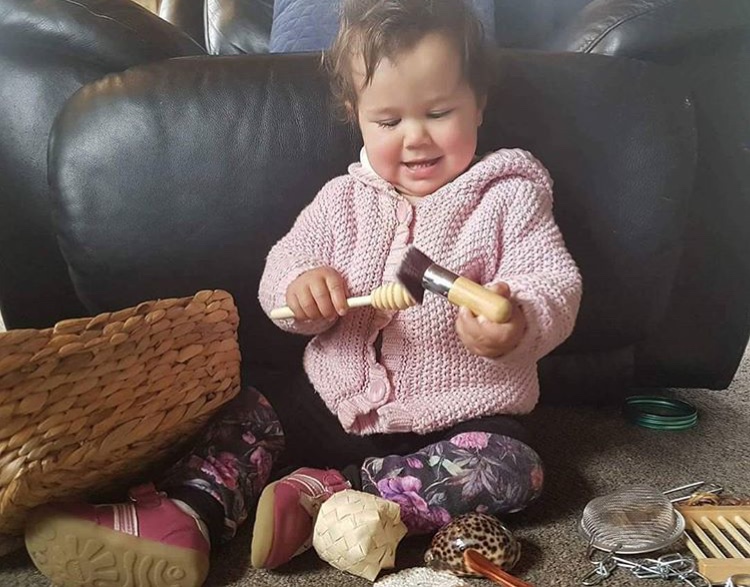 Have a baby between 6 months & 1 year?
The best seller 'Base Set' is a winner every time. 19 individual items to grow with and explore. Making this set a top gift for that special 1st birthday present.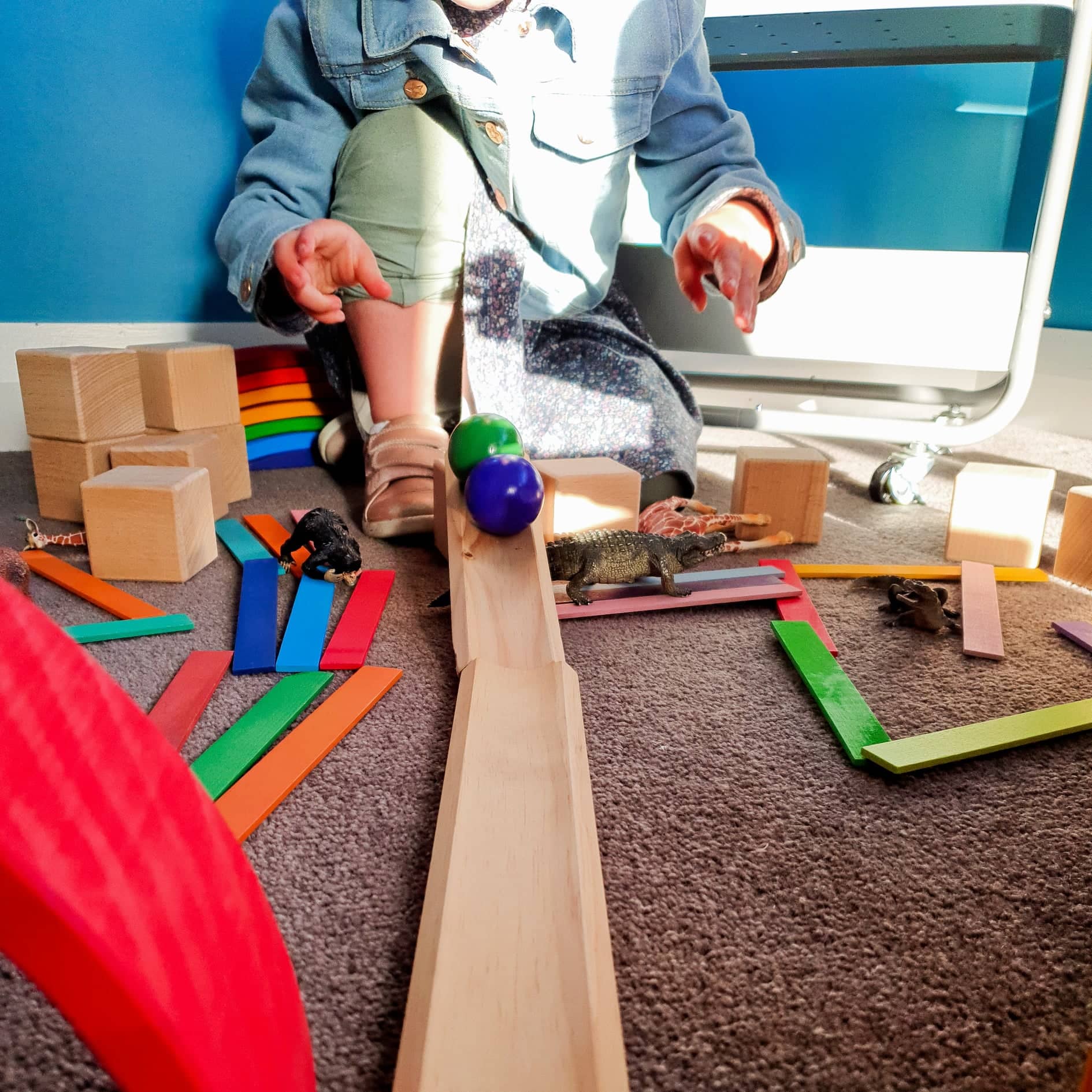 For children over 3 years?
Props in play are a win for any play space. We suggest our Shawls, Rainbow Folk and Coloured Balls. Take a browse of our resource section and discover other treasures too.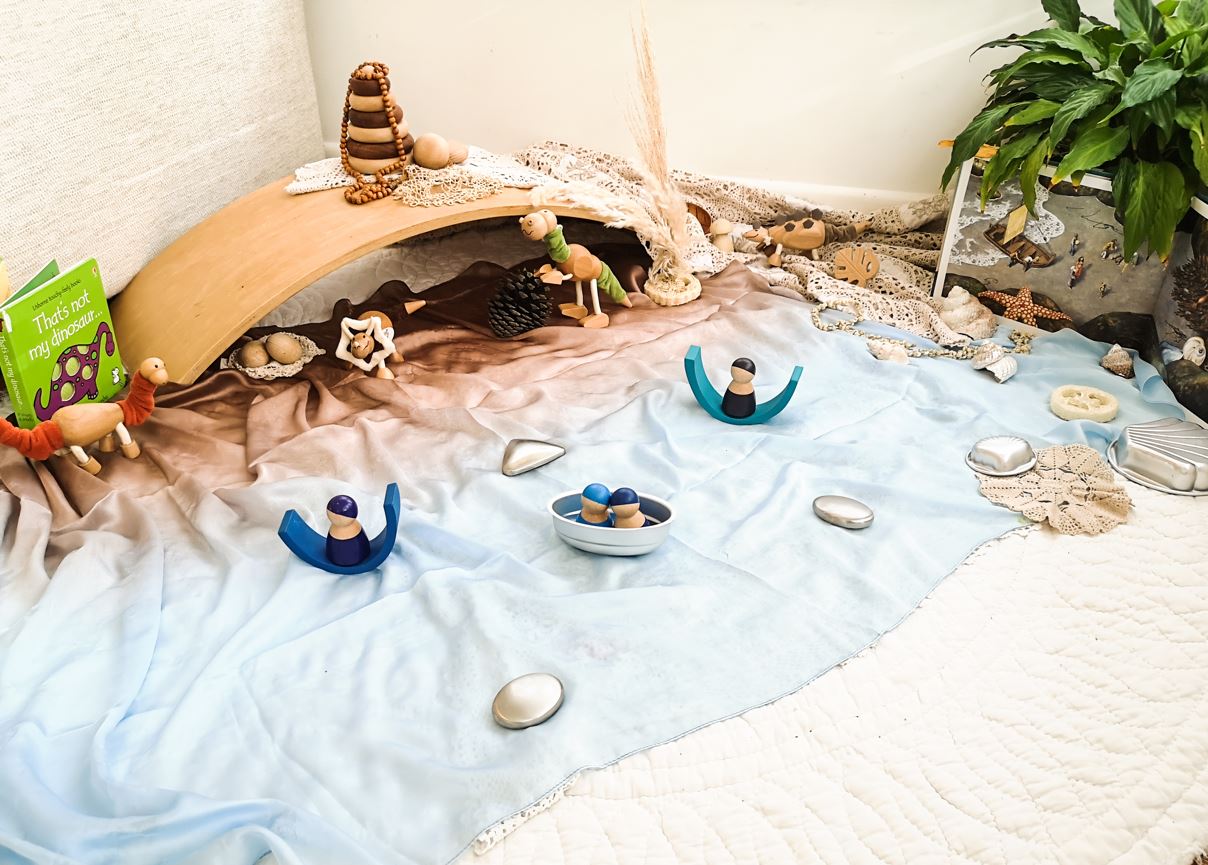 Children between 1 year and 3 years of age?
The versatile Play Shawl will become your new best friend. A prop like no other, ideal for setting the scene, a foundation to play and an item that transforms into a multitude of possibilities.

Your child will gravitate towards the Rainbow Folk. Watch them transform into any play way or theme. 12 in a Set, this clan bring colour and opportunities galore.
The list goes on! Check out the pack of 100 sticks, coloured balls and of course the NavyBaby PlayClub where you'll find hundreds of ways to bring your purchases to life!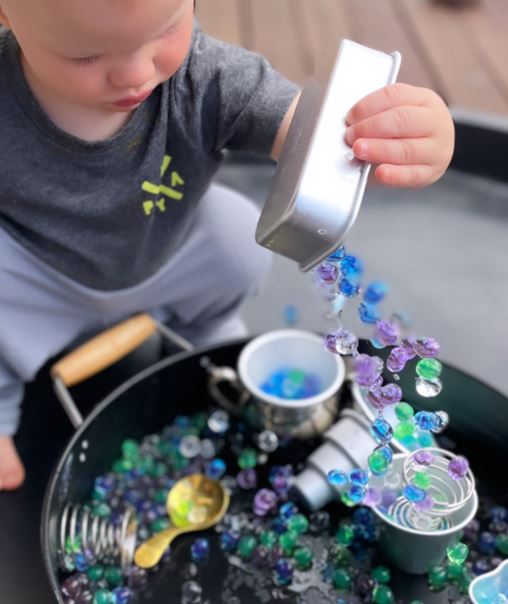 For the Messy Play lovers!
Meet the 'Messy Play' Set. This assortment of utensils and vessels is a match made in heaven for any play lover!
The versatility on offer with this collection is endless. It's easy to clean, re-use and is made to last the distance.

If you're thinking is it too soon? You won't regret your purchase. This set of course is an array of loose parts that can be used in any which way.